The use of homologous or autologous grafts to reconstruct the skeletal structure after large removals is a very frequent practice in maxillofacial surgery. The areas of application of such technique are several: facial skeleton surgery, traumatology, malocclusions or severe crania-facial deformities. 
Dental implants are one of the most used therapies in missing teeth substitution. In the past, guidelines suggested fixing the implants to the residual bone, which was, however, often inadequate. Current guidelines give now the possibility to carry out a more efficient implant surgery by the utilisation of biomaterial fillers. The bone substitutes can be of allogenic, autogenic, xenogenic or synthetic particulate origin. Each substitute has different reabsorption abilities. The most used homologous bone fillers in orthodontics are lyophilised bone chips and Db-Graft-T a syringeable bone paste, malleable and containing Demineralised Bone Matrix (DBM), with osteoinductive properties.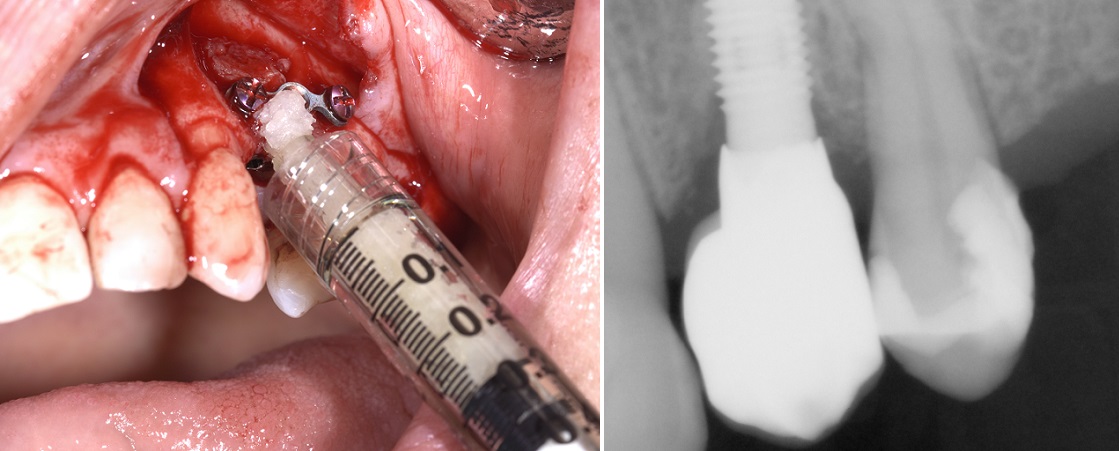 Compared to synthetic substitutes, the use of bone allows monitoring the development of new bone on which to position the implant, through the use of diagnostic imaging techniques. Furthermore, homologous bone is available in large quantities, to avoid another procurement procedure to take autologous bone. According to the surgical technique, in the case of surgeries where is necessary to increase the bone quantity (i.e. large maxillary sinus lift), other types of grafts can be required, such as cortico-cancellous shafts, cortical shafts, and mono/bi/tricortical shafts from the iliac crest (both frozen or lyophilised).

Custom-Made Grafts

Since 2010 the Musculoskeletal Tissue Bank BTM is specialised in the mechanical processing of tissues with the installation of a Computerised Numerical Control (CNC) Milling Machine (Delta Macchine – Rieti), able to reproduce CAD-CAM models from a cortico-cancellous bone fragment.
We can therefore take care of realising custom-made grafts, starting from the planning from CT data of the patient, until the creation via CNC Machine. It is possible to create different kinds of grafts such as shafts, pins, and monocortical blocks. Planning and manufacturing are carried out in accordance with the customer, both planning the graft on the CT data of the patient and reproducing a CAD project provided by the customer.